Resort
Ideally situated in the heart of the Bonavista Peninsula, our resort makes a perfect hub from which to base your vacation. Everything you need is here in one location - accommodations, dining room, lounge, golf course, and the breath-taking scenery of the Atlantic Ocean and Newfoundland coast. When you use our facility as your vacation hub, each day you can head off into a new direction and have an entirely different experience. Travel northeast to see the rugged shoreline on the way to Cape Bonavista. Head east to be engulfed by the history and culture of Trinity. Go west to encounter the wildlife and beautiful scenery found in the Terra Nova National Park. Then again, with the peacefulness, beauty, and convenience that our resort offers, you may not want to go anywhere at all ... especially home!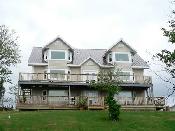 Accommodations
Imagine this - you're standing within one of our spacious suites. In front of you is a huge picture window encasing a gorgeous view of the Atlantic Ocean. Behind you lies the first hole of our challenging and picturesque golf course. To your left side is our clubhouse with a lounge and dining room. To your right side is a trail that leads to hiking, ATV-riding, snowmobiling, and cross-country skiing trails. All around you is the spectacular scenery, majestic wildlife, fascinating history, and cultural splendor that the Bonavista Peninsula has to offer. Those guests who are looking for a relaxing break will find our rural location and tranquil surroundings to be very stress-relieving.
Guests who are in search of recreational adventure, can find it just around the corner!
Come see why we often tell our guests - "We'll give your breath back when you leave".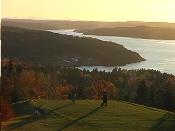 Golf Course
Each hole of this course offers its own unique natural beauty. Sculpted from the rocky hillside and contoured to match its surroundings, the terrain offers a mixture of flat areas, gentle slopes, and rising hills. Narrow fairways, natural obstacles, and sand and water traps make strategy and accuracy more important than being able to hit extremely long drives. With its challenging play and beautiful scenery, a round of golf at The View is enjoyable for players of all skill levels. Because we space our tee-times out more than other courses, our golfers find that they enjoy a more leisurely paced game with plenty of time to soak up the beautiful surroundings. The final hole, featuring a breathtaking backdrop of the Atlantic Ocean, makes a spectacular finale to your round. On this course, you'll find that you reach for your camera as often as you do for your clubs!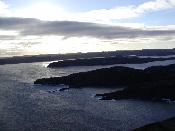 Attractions
There are few places in North America which can offer visitors the sort of experience that can be found here in Newfoundland.
The island's landscape and scenery and it's native wildlife, birds, and plants are truly spectacular. Early in the summer, huge icebergs, whales, and puffins can often be viewed from shore or, better yet, from boat. During the summer and fall, golf, hiking, biking, kayaking, canoeing, camping, hunting and fishing enthusiasts who visit the island will have an experience like no other. As well, winter travelers can enjoy snowmobiling, alpine or nordic skiing, and ice-fishing.
Yet with all those things put aside, the absolute greatest offering of the island is the Newfoundland people themselves who are often called the most friendly, caring, funny, charming, trusting, charismatic, and hospitable people you'll ever find!